Obituary for Ronald Fell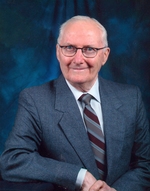 With his children by his side, Ronald James Fell, 84, of Middle LaHave, passed peacefully on May 8, 2017 at Rosedale Home for Special Care, New Germany.

Born in Toronto, Ron was the youngest son of the late John Fletcher and Grace (Kirstine) Fell Wilkinson.

He grew up a city boy but loved the summers at his grandparents' farm in Walkerton, ON. Ron travelled across Canada and overseas as a navigator in the Air Force. He was stationed in Greenwood, Nova Scotia when he met and married the love of his life, Gretchen (Bailey). They had two children in quick succession, Gary born in N.S and Karen in Alberta. The family returned to N.S. so Ron could attend Dalhousie University, graduating as a mechanical engineer, after which they moved to Arvida, Quebec when Dad joined Alcan.

After the kids left for university, Mom and Dad returned to Ontario, living in Picton, New Liskeard and Toronto before retiring to the South Shore of Nova Scotia. Dad cared tirelessly for Mom throughout her illness; their marriage was a love story that spanned almost 50 years. After Mom died Dad, soldiered on, visiting his mother-in-law daily for a quick. chat, becoming health conscious, reading food labels, sending us articles on health and walking 10 km daily, long before a healthy lifestyle was in vogue.

Ron was an avid sports fan with a passion for baseball that he shared with all, including Gary, grandson Adam, brother-in-law, Charles and several nephews. He and Gary took many a road trip to see a ball game, always returning with a tale. Gretchen and Ron celebrated their 40th wedding anniversary at the Skydome, in a room overlooking the game. Dad and Mom also enjoyed playing bridge, developing several lifelong friends over a game. Wherever he lived, Ron was active in the United Church, most recently as an elder at St. John's United Church, Middle LaHave.

He was Poppy to his grandchildren, who thought him having tattoos was pretty cool, especially the story about how he got them. He shared his love of baseball of course, walked the city with them whenever they visited and always made sure they knew where to find his stashes of Werthers.

Ronald is survived by his daughter, Karen Fell, Milton, ON; son, Gary (Sandra), Thamesford, ON; grandchildren, Adam, Sara, Daniel, Caitlin and Liam;; twin sister Ruth Palmer, Emsdale, Ontario; mother-in- law Audrey Bailey, also at Rosedale, and several sister/brother-in-laws, nieces and nephews.

Ron was predeceased by his wife, Gretchen; brothers, Jack, Keith; sister, Joyce Carpan and son-in-law Hugh Robinson.

Funeral arrangements are under the direction of the Dana L. Sweeny Funeral Home11213, Hwy #3, Lunenburg. A Funeral service to celebrate Ron's life will be held Friday at 10:00 a.m. at St. John's United Church, Middle LaHave. Rev. Heather Ferrier officiating. Interment will be in Middle LaHave Cemetery, Middle LaHave.

In lieu of flowers, memorial donations made to St. John's United Church, Middle LaHave, or Rosedale Home for Special Care, New Germany, would be appreciated by the family.