Obituary for Joy McBride (Nodding)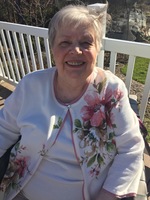 It is with great sadness that the family of Joy Lavonne Nodding McBride, 84, of Halifax, and formerly of Lunenburg, announces her passing on Monday, January 1, 2018, at the Halifax Infirmary with her family by her side.

Born in Lunenburg, she was a daughter of the late Gordon and Gladys (Whynacht) Nodding.

Joy was a loving and generous woman. She devoted her life, as a full-time mother, to nurturing her family and loved ones.

Joy is survived by her loving husband Robert David; daughters, Anna (Patrick) Hirtle,Wileville, Susan McBride, Halifax, Randi (Joseph) Flinn, Bedford, Kathy (Rodney) MacIntosh, Halifax; beloved grandmother to ten grandchildren and nine great-grandchildren; sister, Judy; brothers, Gordon Jr. (Irene), Freddie, Rayfield (Carleen), Douglas (Virginia), Wayne (Carol), Grant (Barbara), Marven (Bev); as well as a large extended family.

Besides her parents, Joy was predeceased by her brother Keith.

Funeral arrangements are under the direction of the Dana L. Sweeny Funeral Home, 11213 Hwy. #3, Lunenburg. A Celebration of Joy's life will be held from 2 – 4 p.m. on Saturday at the Lunenburg Fire Department, 25 Medway Street, Lunenburg. Interment will be at a later date.

In lieu of flowers, the family requests that memorial donations be made to The Atlantic Clinical Cancer Research Unit, ACCRU, directed by Dr. Daniel Rayson, c/o The QE II Foundation. For many years our family physician, Dr. Adrienne Watson, Dr. Rayson, his team and the nurses of the 11 Vic Cancer Treatment Unit provided our mother with exceptional care as devoted and compassionate professionals. We are grateful.