Obituary for Heather Anne Corkum (Cornu)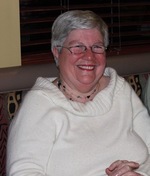 It is with great sadness that we announce the passing of Heather Anne Corkum on Sunday, January 14 at Harbour View Haven Home for Special Care.

Born in Lunenburg on August 16, 1945, Heather was the beloved daughter of the late Johnny Cornu, Lunenburg's magician, and Timmie (Emeneau) Cornu. As a child, she was a tomboy, the so-called "bully of Blockhouse Hill", known to hold her own against her brother Peter and his friends. Later, the family moved to the corner of Duke and Pelham Streets, site of her grandparents' home and business, Emeneau's Bakery. She loved to recall running between the bakery and her Aunt Hilda Morash's corner store for all kinds of sweet treats.

Heather was educated at the Lunenburg Academy and later attended the Bridgewater Commercial School, becoming a court stenographer and secretary to Judge Hiram Carver.

In 1964, she met her future husband, Christopher Corkum, on a blind date arranged by friends. They married in 1966 and raised three daughters together on Centennial Avenue. It was a neighbourhood filled with young families and Heather was very happy there.

Heather was a devoted mother, participating in every aspect of the girls lives. She was a Brownie leader, the president of the Home and School Association, she threw lavish birthday parties and was always there to nurse a hurt or heartache. She was equally steadfast in the love and care she provided to her parents, and her aunt and uncle Marion and Hughie Strachan. When her mother Timmie died in 1990, she and Chris moved in with Johnny to care for him.

To meet Heather on the street or behind the counter at Zwicker's Variety Store, which she operated with Chris in the 1990s, was to share a smile and a chat. However, beginning in her mid-30s, she began suffering serious bouts of depression. After more than 35 years in and out of care, she would be diagnosed as bipolar.

Still, in times of stable health, she remained a force to be reckoned with. In a real life miracle, she recovered from a serious 18-month depression in time for daughter Stephanie's wedding in 2001, smiling and dancing the night away with a visibly overwhelmed and grateful Chris. She was overjoyed by the arrival of each of her grandchildren, and later, her two great grandchildren, virtually moving in to help her daughters. She relished every school concert, birthday and holiday occasion, and a lot of quieter moments, playing cards and board games, going to the library, baking and making snacks. When she was happy, everyone was lifted up.

She was a longtime member of the Ladies Auxiliary of the Lunenburg Fire Department and of the Royal Canadian Legion, Branch 23, of which she was a past president. Early in her life, she sang in the church choir at St. Andrew's Presbyterian, she was a Jaycette and she volunteered with Meals on Wheels.

Heather is survived by her daughters Susan (Jody) Corkum-Greek of Bayport, Sandi (Ken Cusack) Corkum of Bridgewater and Stephanie (Mark) Hunt of Lunenburg; grandchildren Victoria and Courtney (Curtis Francis) Wiseman, Nathan and Maddie Greek, Ethan and Aidan Hunt; great-grandchildren Carter and Christopher Francis. She also has a brother, Peter.

She was predeceased by her husband Chris, and her parents.

Cremation has taken place and funeral arrangements are under the direction of the Dana L. Sweeny Funeral Home, 11213 Hwy. #3, Lunenburg, where a memorial service will take place Friday, January 19, at 2 p.m. Rev. Dr. P.A. (Sandy) MacDonald officiating.

In lieu of flowers, memorial donations may be made to the Lunenburg Academy of Music Performance or the Canadian Mental Health Association of Nova Scotia.