Obituary for Jean Elizabeth Ernst (Ernst)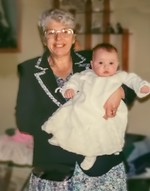 It is with great sadness that the family of Jean Elizabeth Ernst, 73, of Lunenburg announces her passing on Saturday, January 20, 2018 at the South Shore Regional Hospital, Bridgewater.

Born in Ernst Island, she was the daughter of the late Howard and Eva (Sawler) Ernst.

In her early years, Jean worked in the dietary department of Fishermen's Memorial Hospital and then as a housekeeper in the homes of C. J. Morrow and Wallace Smith of Lunenburg.

Always a hard worker, she enjoyed helping her husband, Clyde, lobster fishing. Jean treasured her home and family and loved nothing more than to have all her family around her or just spending a quiet day working on puzzles or reading.

Jean is survived by her daughter, Michelle (Clarence) Jackson, Middle Cornwall; her granddaughter, Colleen Jackson, Middle Cornwall/Halifax and her sister, Dorothy Cooper, Lunenburg.

She was predeceased by her husband, Clyde Ernst.

At Jean's request, there in not to be a memorial or Interment service at this time.

Funeral arrangements have been entrusted to the Dana L. Sweeny Funeral Home, Lunenburg.
In lieu of flowers, memorial donations may be made to the South Shore Regional Hospital, Canadian Cancer Society or a charity of choice.