Obituary for Harry George Walker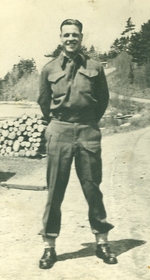 Walker, Harry George Reginald, 101, formerly Centre, died October 11, 2018, at Shoreham Village Nursing Home, Chester.

He was born in Halifax, Nova Scotia, on September 29, 1917. His parents were George William Walker of Country Harbour and Nora Elizabeth Ernst of Indian Point. They lived at 15 N. Clifton St., Halifax, NS. His father worked as a packer for John Tobin & Co., now known as the former Morse Tea Factory in Halifax. Ironically, he was baptized in the morning of November 3, 1917, and later that day his father was killed in an elevator accident at his workplace.

Harry is a survivor of the Halifax Explosion, December 6, 1917, from which he was covered in black soot from the explosion. His mother remarried Julius Weiss and his early life was spent in the United States where he attended Jefferson Jr. High School in Detroit, Michigan and where he had a part-time job selling newspapers. The family eventually moved to Palm Springs, California where he attended Banning Union High. Throughout these years Harry, along with his family, half-brother, Murry Julius Weiss, and half-sister, Edna Flora Elizabeth Weiss returned to Nova Scotia in the summers where they spent their time at Indian Point. The family had a cattle ranch while living in Palm Spring. Harry loved to tell his many fond memories of living in the desert.

The family returned to Nova Scotia permanently in 1933. They settled in Middle La Have, Nova Scotia and Harry did various jobs to help support the family. He went to sea, first on a salt banker as a member of one of the last Grand Bank sailing schooners, the Mildred Beck. Later he was employed with the coastal trade out of Lunenburg and Riverport on the AJP. In 1942 Harry enlisted in the army and became a member of the Royal Dental Corps, attaining the rank of sergeant, he served in various posts in Nova Scotia and Newfoundland. On July 14, 1945, he and Leolyn Kathleen Lohnes were married in Middle La Have, Nova Scotia. He was discharged from the army in 1946 at which time he opened and operated the Lunenburg Dental Laboratory along with his cousin and partner, Frank Ernst. They stayed in business together for 37 years until 1983.

While living in Middle LaHave, Harry was a member of St. Bartholomew's church where he served as a Warden. Once living in Centre, he became a member of St. John's Anglican Church, Lunenburg, where he served in many capacities. He was also a member of the Royal Canadian Legion Branch 23 in Lunenburg. After his retirement, he joined the Lunenburg Curling Club where he enjoyed curling many mornings with his friends. Harry and Leolyn both moved to Shoreham Village, July 2011, and lived there together until Leolyn passes away January 11, 2014.

Survived by son, George (Janet), Richard (Kathy), daughter, Susan (Todd); grandchildren, George, Johnathan, Kate, and Matthew; 13 great-grandchildren. He was predeceased by his wife Leolyn, brother, Murray Weiss and sister, Edna Cook.

Funeral arrangements: Dana L. Sweeny Funeral Home, 11213 Highway 3, Lunenburg, NS, where a memorial service celebrating Harry's life will be held, Tuesday, Oct. 16, 2018, at 11:00 am, Rev. Alvin Westgate officiating, reception following. In lieu of flowers, memorial donations may be made to St. John's Anglican Church or Shoreham Village Nursing Home.