Obituary for Sarah Bennett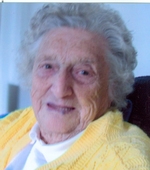 Sarah Elizabeth Bennett, 94, of Lunenburg and formerly of Garden Lots, passed away Saturday, May 13, 2017 at Fishermen's Memorial Hospital, Lunenburg.

Born on October 17, 1922 on Sagona Island, Fortune Bay, NL, she was a daughter of the late Jessie and Elizabeth (Skinner) Mullins.

Sarah's earlier years were spent in Harbour Breton, NL where as a single mother, she worked at two jobs, housecleaning and at the fish plant, in order to support her family. In 1967, she moved to Riverport to work as a housekeeper for Allan Stoodley until the late 1970's when they moved to Garden Lots.

Many will remember Sarah for her love of camping which she and Allan enjoyed for over 20 years as regular campers at Rayport Campground in Martin's River. She was a member of St. Barnabas Anglican Church, Blue Rocks.

Sarah is survived by daughter, Elizabeth (Harry) Lundrigan, St. John's, NL; son, Calvin (MaryAnn) Bennett, Riverport; her closest grandchildren, Lisa (Brian) Hatt, Bridgewater; Geordy (Amy) Bennett, Cape Breton; Darlene (Barry) Lundrigan, St. John's, NL; great-granddaughters, her pride and joy, Brianne Hatt (Ryan), Bridgewater and Ava Bennett, Port Hawkesbury, Cape Breton; 8 other grandchildren and 9 great-grandchildren; also, nephew Ralph Mullins (Brenda) Paradise, NL and niece, Marie Cribb (Leveson) of Harbour Breton, NL.

She was predeceased by her common law partner, Allan Stoodley, brother, Henry Jim Mullins and by her sons, George and Phil.

Some special friendships were made while living in Blockhouse Hill Seniors Complex.
Many thanks to Aubrey R. and Darlene and also her special friend, Sue K. for the visits and laughter you brought to her life. To the nursing staff at Fishermen's Memorial Hospital, 2nd Floor Medical, Krista Knickle NP and Dr. Catherine Kelly for the care and compassion shown during her illness.

Funeral Arrangements are under the direction of the Dana L. Sweeny Funeral Home, 11213, Hwy.,#3, Lunenburg where a memorial service to celebrate Sarah's life will be held Saturday, June 24, 2017 at 11:00 a.m., Rev. Heather Ferrier, officiating. Interment will be in Shepherd's Hill Cemetery, Riverport.

Family flowers only. Memorial donations may be made to Shepherd's Hill Cemetery or to St. Barnabas Anglican Church, Blue Rocks.