Obituary for Rev. Michael Henry Mitchell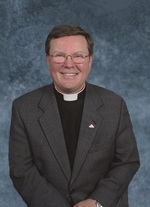 It is with great sorrow that we announce the passing of The Rev. Michael Henry Mitchell on Friday, January 12, 2018 at the Fishermen's Memorial Hospital, Lunenburg.

Born in Halifax on June 3, 1953, Michael was the son of the late John Alfred Mitchell and Ruth Josephine Mitchell.

Michael first served in the Roman Catholic Church with the Missionary Oblates of Mary Immaculate and was ordained as a deacon in 1979 and as a priest in 1980. The early years of his ministry were spent in Ontario in the parishes of Hamilton and Fort Frances.

Michael was received in the Anglican Church in 1996 and served in the parishes of St. Martin's, Western Shore and St. Thomas, Fall River and on May 1, 2005, Michael and his wife, Holly came to the parish of St. John's Anglican Church to serve as their Rector.

Michael's ministry has led him to serve as a Retreat Director and ministry among Canada's First Nations people in Labrador and Northern Ontario, as well as research with the Provincial Government and fund raising work in the not-for-profit sector. He has served as the co-chair of the Diocese of NS and PEI Leap for Faith Capital Campaign, and as a member of the Diocesan Planned Giving Committee since 1998 and chair of the Committee from 2005 to 2008. In 2009, Michael was appointed Regional Dean of the South Shore Region of the Diocese and in January, 2012, he was named Archdeacon of the 13 parishes of the South Shore.

As a talented pianist, Michael was always looking for opportunities to share his love of music, whether through his own participation in services or through opening up the doors of the church to world class performances by international artists.

To have a ministry with boundaries so wide and deep, Michael depended upon and cherished the support from his family. Times shared in simple pleasures like gardening, cooking, hiking and reading were all considered precious to him and were a great source of his strength.

Michael is survived by his wife, Holly; his daughters, Christy Hagen of Bedford, Michelle Hagen (Jody) of Dartmouth and his son, Michael (Paula) Landygo, of Winnipeg; grandchildren, Kaitlyn (Justin), Caleigh and Trinity; his sister-in-law, Teri Bobinski of Wadena, SK; his brothers-in-law, George (Inessa) Kulyk of Basel, Switzerland; Morris (Pat) Kulyk of Cochrane, AB; his brothers, Greg (Sharon) Mitchell, of Brookside; John (Mary) Mitchell of Brookside; sister, Debbie (Kevin) Wilson of Elmsdale; nieces, Trina, of Brookside; Crista-Lee (Ruben), of Canmore, AB; Stephanie (Keith) and Haley, both of Elmsdale; nephews, Matthew (Jennifer), of Brookside; Johnny (Sarah) of Eastern Passage; Stephen (Heidi) of Brookside; his aunt, Pearl Gregory of Elmsdale, and numerous great-nieces, great-nephews and cousins.

He was predeceased by his parents, Jack and Ruth Mitchell and his uncle, Harry Gregory of Elmsdale, infant niece, Chelsey, as well as numerous aunts and uncles.

Michael will always be remembered for his big smile, his sense of humor, his infectious laugh, his positive attitude, his story telling, his generosity and support of all those he knew and loved. He treasured his times spent with all of his family and especially his grandchildren, whom he loved more than words can say. He shared his love of travelling (cruising) with his wife, Holly, and together they had travelled extensively.

Michael had a profound love for the people of all the parishes he served.

A Mass of Christian Burial to celebrate Michael's life will be held 2:00 p.m. Saturday, January 20, 2018 at St. John's Anglican Church, Lunenburg, The Most Reverend Ron Culter, Bishop of NS and P.E.I., officiating. Interment at St. Martin's Anglican Cemetery, Martin's River.

No flowers by family request, memorial donations may be made to St. John's Anglican Church or South Shore Palliative Care c/o Health Services Foundation of the South Shore.

APPRECIATION

We, the family, wish to express our sincere gratitude for all the thoughtful expressions of love and kindness by family and friends throughout his illness, and during this time of loss and sorrow.