Obituary for Thomas "Tom " Drakes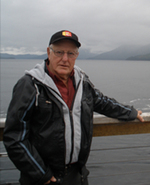 It is with great sadness that the family of Thomas James "Tom" Drakes, 88 of Riverport announces his passing on Tuesday, June 13, 2017 at the South Shore Regional Hospital, Bridgewater.

Born in Millers Passage, Newfoundland, Tom was brought up by his grandparents, Charles and Eliza (Drakes) Sheppard.

Tom started his fishing career at the early age of 9 shore fishing with his grandfather on the Grand Banks. At 15 he moved to the Lunenburg area where he went dory fishing and later received his Engineer Ticket and continued scallop fishing with Adams and Knickle, Clearwater, Fisheries Product International. He then took a leave from fishing in the 80's to work on the Oil Rigs. Longing to return to fishing he went with Scotia Trawlers and then started a business selling fish to many around the area up until recently, when his health started to fail. During the 80's he and his wife, Lottie also operated the "Tea Cup" mobile canteen that many folks came to enjoy.

He was a faithful member of St. Joseph's Roman Catholic Church, Bridgewater a great supporter over the years of his beloved "Newfie Days"

Although his life was a busy one at sea, he cherished time spent at home with his family, whom he adored one and all. His family will miss him greatly and we have all been blessed to have known such a great man.


Tom is survived by his loving wife of 66 years, Lottie; daughters, Loretta (Donald) Cook, Riverport, Barbra (Gary) Manuel, Stillwater Lake; sons, Tom (Liz) Riverport, Albert (Sheila) Rose Bay, Charles (Sherri) Rose Bay, Michael, Vancouver; grandchildren, Tina, Peter, Craig, Anthony, Jeremy, Angie, Lindsey, Chad, Jacquie and Tim; 15 great-grandchildren; half-sisters, Clarice Wells, Grand Bank, NF, Bernice Dunphy, Alberta, half-brothers, Owen (Theresa) Sheppard, Philip (Cecilia) Sheppard, John (Josephine) Sheppard all of Stephenville, NF.

He was predeceased by his half-sister, Eileen and half-brother, Richard.

Friends are invited to share their memories of Tom with his family during visitation on Thursday from 7 to 9 p.m. at the Dana L. Sweeny Funeral home, 11213 Hwy. # 3, Lunenburg. Funeral mass for Christian burial will be held Friday at 2:00 p.m. at St. Joseph's Roman Catholic Church, Bridgewater, Rev. Father Jim MacDonald OMI, officiating. Interment will be in Hillcrest Cemetery, Lunenburg.

Flowers from the immediate family only. Memorial donations may be made to St. Joseph's Roman Catholic Church, the Kidney Foundation of Canada or to the Diabetes Association of Canada.

www.sweenyfuneralhome.